OpenRMA Repair Centre
Features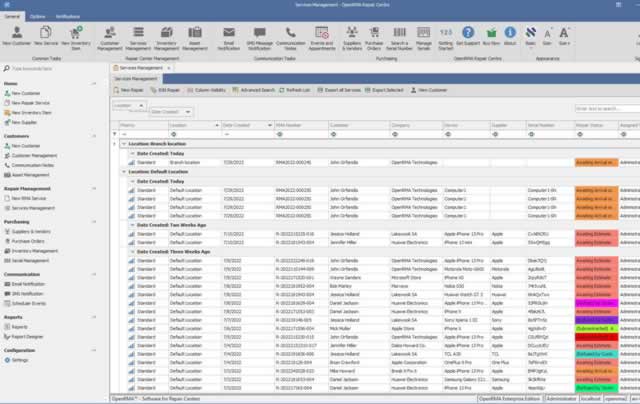 Repair Tickets
The all new Services Management Dashboard will help you avoid those frustrated customer calls because someone hasn't heard from you. The color coding keeps the urgent stuff on the top of the list and standing out.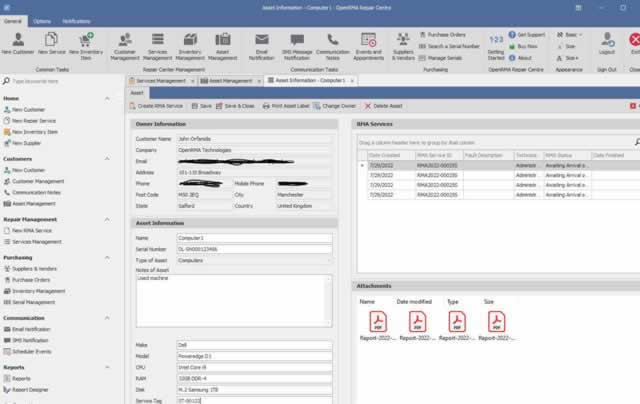 IT Asset Management
Discover unmanaged devices and get complete, accurate, and real-time insight into all your managed IT assets to reduce costs, increase productivity, and improve security.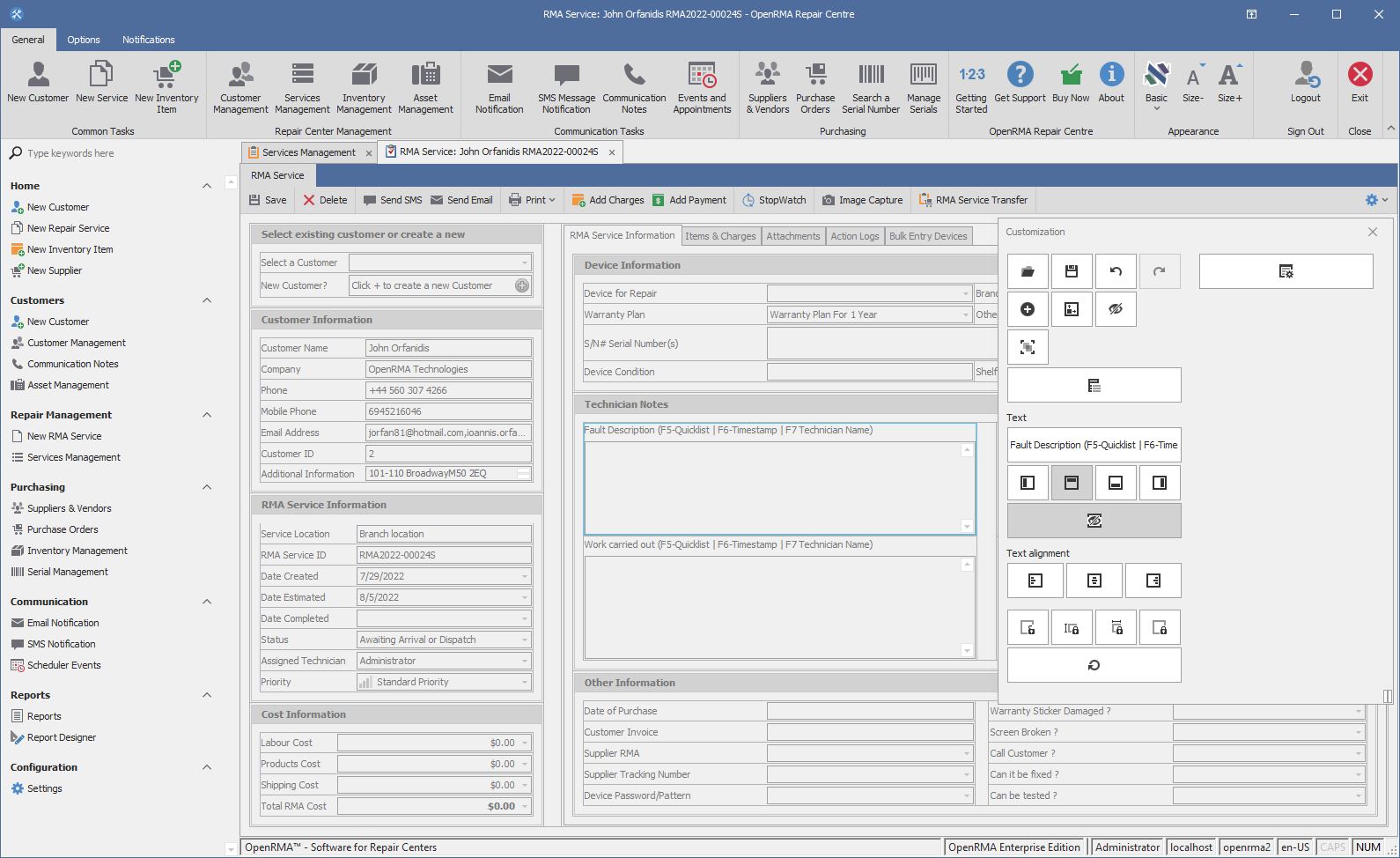 Drag and drop customizer
OpenRMA forms are flexible and highly customizable, so can make it look like your business needs. You can rename any field, hide or show it, sort, filter and many more thought an easy-to-use form customizer.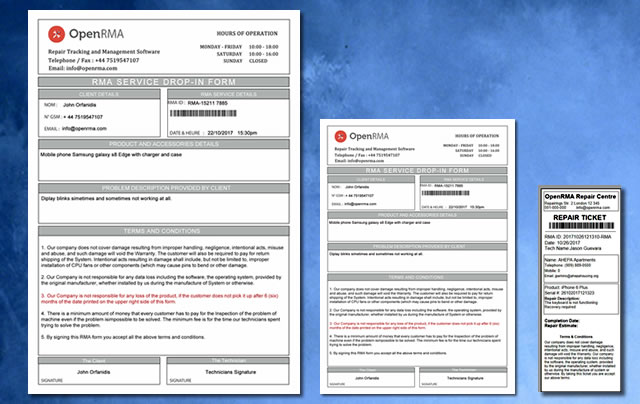 RMA Forms Printing
Print RMA forms (Letter, A4 and A5 paper size), tickets on thermal printers, label stickers and parcel labels with your own terms and conditions for your customer to sign and accept your terms.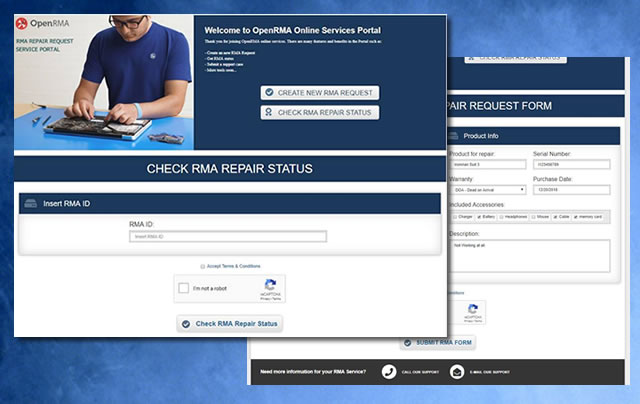 Online Repair Status Check
Give your customers the ability to Create and Request a new RMA into your system before they bring the product for repair. Also the customers can check the status of the repair and the notes you write in it.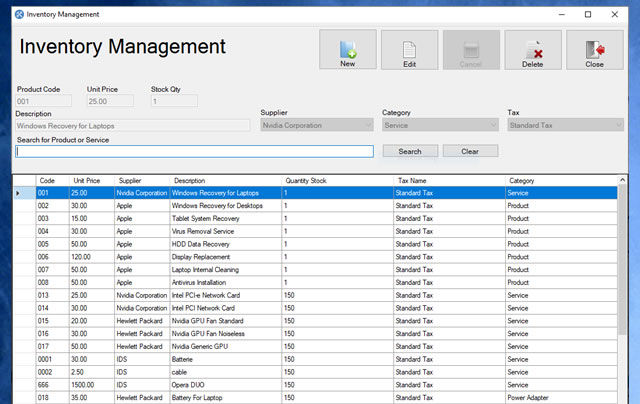 Inventory Management
Stocked and Serialized Inventory. Keep stock for your products and parts and pick them from your Repairs. Multi-location Inventory and Serialized Items allows you to track stock of your Items separately on each Business Location.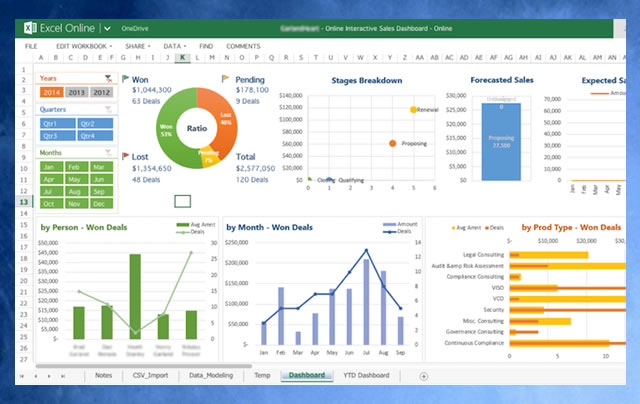 Export to Excel
Export your all or filtered Repairs to Microsoft Excel for further processing and filtering based on your business needs.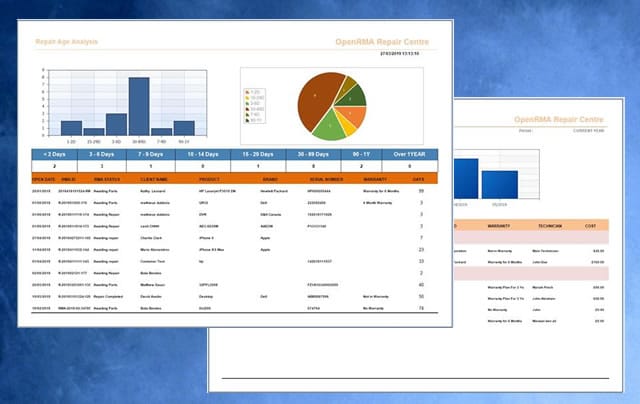 Advanced Reporting
With our advanced reporting system you can display, print or export to pdf, image or excel file your repairs. It help you to get the big picture of your repair business.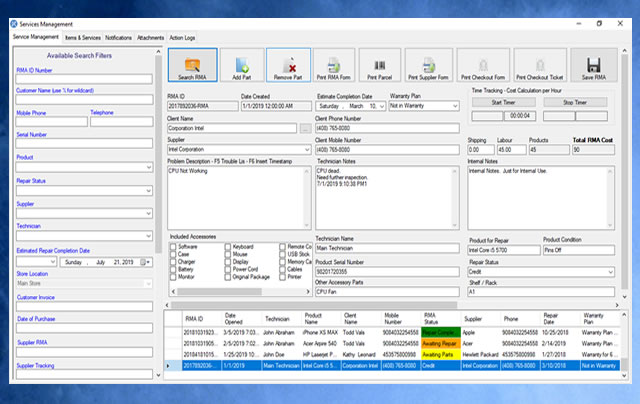 SMS & Email Notifications
You can send SMS messages or Email messages as products being repaired or serviced through each process step.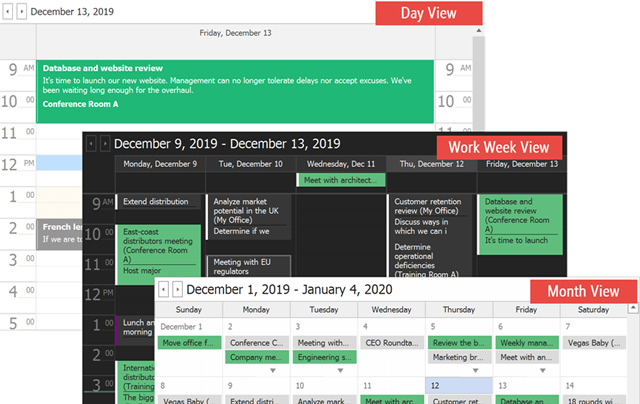 Appointments and Events
Our scheduler module allows users to create and edit regular and recurring appointments and events in different views. Featuring a Personal schedule form for each Technician's own items and a dispatch board schedule view for dispatching all scheduleable employee from one location.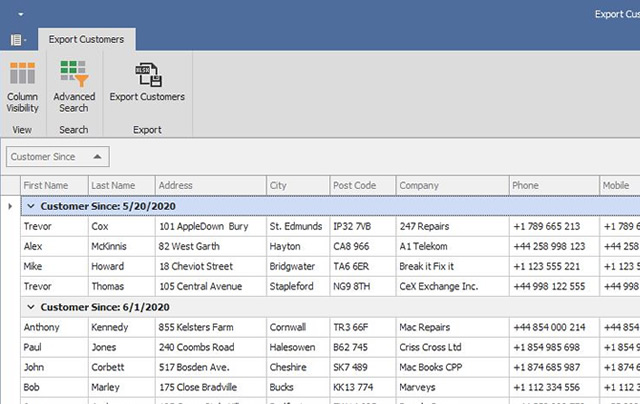 Office Inspired Interface
Brand new beautiful Office-Inspired  UI interface for the best user experience. High resolution forms and controls that are easy to use. Choose from many themes available and Change the font size of the software for ease of use.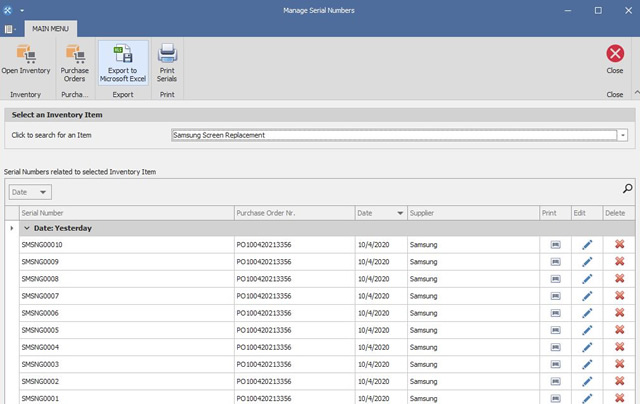 Serials Management
You are able to add serial numbers in the parts and products you add in your repair devices. This way you can scan and track later by product serial number and find your warranty and your Past repairs with one click.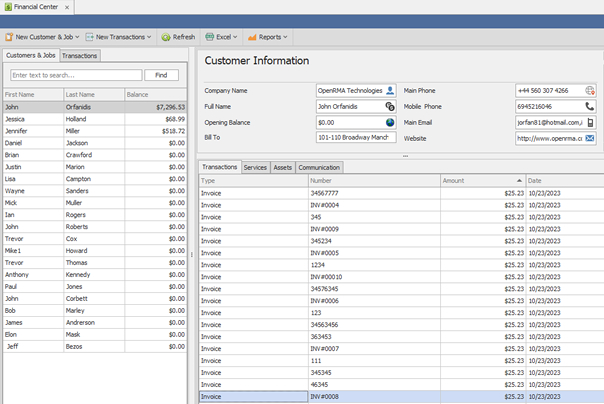 Invoicing Features
Managing your repair and return merchandise authorization (RMA) processes just got even better with OpenRMA Repair Centre's latest enhancement - Invoicing. This powerful addition empowers end users to streamline their invoicing, receipt, and credit memo generation, simplifying financial transactions and improving customer relationships.
Key-features Overview
Customers
Import and Manage your customers, see all the Repairs for the same customer with ease.
Repairs
Create, Manage, Track, Print, Email and process any aspect of the repair process.
Inventory
Add all your products, parts, labour items into the inventory and use then inside the RMAs.
Warranties
Manage, track registered warranties and assign Warranty Status to each RMA Repair.
Custom Printings
We can customize the print Forms for your customers to match your current Design and Logo.
Bulk RMAs
You can bulk import many products for repair by scanning their S/N. An easy to use procedure for large repair centers.
Invoicing
You can issue, void, delete and Send Invoices, Receipts and Credit Memos. Customize the Invoice numbering format and print form. Have a financial overview of your income.
Reports
Display, Print and Email advanced reporting and get the Big Picture of your repair business.
Status Check
Your customers have the ability to check the status of their repair and read the notes.
Excel Export
Export to excel and further filter and process the exported repairs at your will.
Localization
Our multi-language software is already translated to 15 languages. Including yours.
Purchase Orders
Track your supplier purchases, Inventory Products and assign serial numbers on them.
Courier API
We can connect your courier with OpenRMA pick-up & return your products with one click. No more double work.
Multi-User
Create multiple Technicians and assign permissions so you can have total control of your techs.
Locations
You can have multiple locations in a simple database and manage your stores.
Cloud or Local
You can have your data saved on your local computer, server or we can offer you a cloud database.
Batch Editing
Edit your multiple RMAs at once and print Packing lists for your supplier shipment.
Serial Number
You can add Serial Numbers to your Inventory and add/search Repairs with it.
New Technologies
Build with latest technology tools. Fast and Secure. Fully Customizable Views.

Attachments
Attach any kind of file to your RMA Repairs for example product photos, warranty plans etc.
Barcodes
Print serial barcodes or parcel labels to stick on your products or shipping boxes.
Phone History
Phone log system to save all communication history with the customer for easy reference.
Custom Work
We can customize our software to fit your business workflow or Add additional functionality.
Custom Fields
We have many customization fields and dropdown menus to keep any custom data you need.
Multiple Themes
You can choose from a list of ready-made themes including Dark Theme. Change Font Size and More.